When it comes to choosing the colour of new uPVC windows, most people tend to consider white and brown frames as their only option. There are, however, a multitude of colours available so your new uPVC double glazing can fit seamlessly into the area of Luton you reside. uPVC conservatories, windows and bifold doors have incredible longevity, so it's wise to take the time to decide which look is right for you. Below we will discuss some of the critical considerations you will need to make.
The architecture of your house
When one specific developer builds modern homes, each will have a universal look and feel to them. If you live in a contemporary home, the decision to opt for standard frame colours will seem an obvious one, but this needn't be the case. For new homes, bold colours can strike a distinctive look. If you own a period property, you may be bound by conservation restrictions to keep the colours traditional rather than bright.
Blend windows and doors in with the building materials
The design of your house is not the only aspect you need to consider when choosing new windows and doors for your Luton home. It's vital to select a colour that blends in with the brickwork and other building materials used to construct your home. For red brick homes, French or anthracite grey can create a contemporary look that will still be in keeping with the rest of your street. Less common colours can work with red brick homes, but you should also consider how it will look compared with other properties in the area.
Also, keep in mind the land surrounding your property. If you are lucky enough to have a large garden with trees surrounding your property, a sage green colour will work to complement the setting.
Bespoke double glazing solutions in Luton
Choosing new uPVC windows and doors is your chance to stamp your individuality on the exterior of your property. They should reflect the person you are, and by having so many colour options available, uPVC allows you to. Bold colours such as blue or red can indicate an extrovert, while more traditional colours such as white or brown can provide a comforting look and feel.
Another innovative feature of uPVC is that it allows you to select two different colours for the frame; one for the exterior and one for the interior. This characteristic is particularly useful if you have a period property that needs to maintain a specific exterior feel. Still, you want the interior to match the contemporary style of your home; you can which this bespoke option.
What are the right colours for windows and doors in Luton?
The below can act as a checklist for when deciding which colour options to select:
Dark colours – Dark colours tend to blend in with the glass to produce a continuous flow that won't disrupt the architectural design of the property. When used against light building materials like sandstone, dark colours will form a contrast that will imbue your home with a distinct look.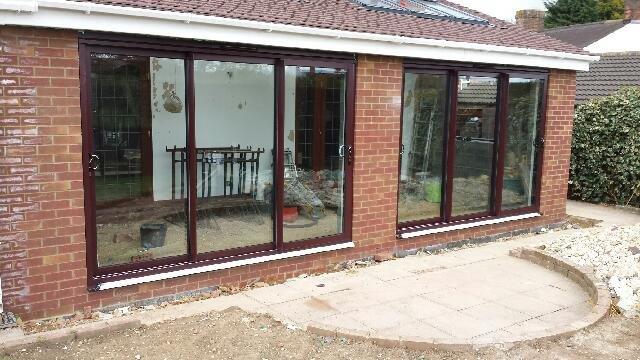 Light colours – Lighter shades will illuminate your property, creating an arresting look. If you choose a brighter, more dramatic tone, ensure the rest of the building contrasts well to temper how colourful your property appears.
For expert advice on what colours will work best for your windows, doors or conservatories in Luton, it's best to speak to the experts. We offer free, unobligated advice on how to achieve the best look for your home.